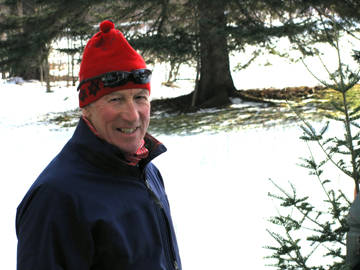 Captain of the Dartmouth Ski Team in 1959, Richard Taylor went on to win the National 30km Championship in 1960. He continued training with the US Biathlon Unit in the US Army, placing 11th in the World Biathlon Championships in Umea, Sweden and 6th in a World Cup in Kuopio, Finland in 1961. He went on to captain the US Olympic Nordic Ski Team at Innsbruck, Austria in 1964. Between the years 1975-1989 he served in many national and international positions with the US Nordic Ski Team coaching staff. He worked full-time with the USST from 1983-87, at which time he joined the faculty at Gould Academy in Bethel, Maine to concentrate his efforts on the teenage development years. Throughout that entire time he has written extensively on Nordic training and technique.
Articles
Click on the Archives link to view a comprehensive list of articles available as .pdf downloads
No Pain, No Gain?
Click on the link for ordering information for the critically-acclaimed book by Richard Taylor:
"As much for coaches and athletes, this book is also an effort directed at bringing aspiring parents up to speed with important concepts in exercise physiology and their relationship to Nordic development......This well-done manual is the work of an Olympian, a lifelong scholar-athlete, and, most of all, a keen observer of nuance in adolescent physical development." ~Jeffrey Leonards, Ph.D., psychologist
Read More Reviews & Testimonials on the "No Pain, No Gain?" page.